Decking NJ Specialists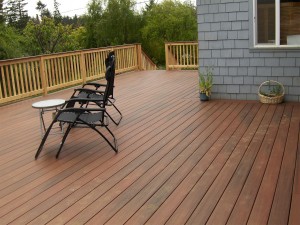 Who wants to be stuck inside on a beautiful day? Get the most out of nice days by adding a deck to your home, or improving the one that you have, with Artistic Construction's help. Adding a deck to your home can help bring more versatility to your home. A deck is great for eating outdoors, having a barbeque, hosting a small party for family, or just relaxing on a nice day. Because a deck literally expands the space of your home, a good deck can even be considered another room in itself. If your deck is properly made and managed, then you can spend years upon years enjoying the many possible uses for your deck.
Deck Building Service NJ
Here at Artistic Construction we take our decks seriously. Each deck is unique and should be suited to each person's home and the way they live. A deck for someone with kids, for example, could be lower to the ground or have easy stairs to access it. However you want or need your deck to be, our experienced and licensed technicians are more than qualified for the job. We will work with you to come up with unique and client-specific designs that work with the architecture of your home so you don't have to worry about it looking out of place. Our experience will give you a sturdy build with great structure and no weak spots. The sheer talent of our crew will give you unrivaled and beautiful craftsmanship that will not only give you another space to live, but will add to the character of your home.
We've been in this business for over a decade and because of that we know what it means to build quality! We work quickly and professionally, ensuring that you're up to date for every step of the plan to make sure that you are happy with the service that we provide. You won't get better decking services than with Artistic Construction anywhere else in the Garden State, so call us today!