Basement Remodeling NJ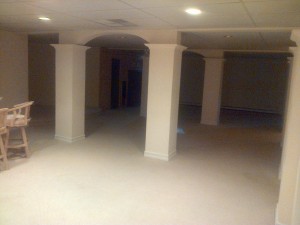 There is one room that is probably not checked up on as much as the others; this is your basement. Many people have their basement as a simple storage unit, or a place for their washer and drier, or they can even leave it completely empty. Instead of wasting space that could be utilized, consider remodeling your basement. If you remodel your basement, the possibilities are endless. You could turn it into a game room, a play room, a relaxing room, or even an office. The possibilities for this room are only limited to your imagination, and can be achieved easily if you hire the right people to do the job. Our technicians at Artistic Construction are trained and licensed to do a plethora of work on your basement. Our design team can help you figure out the best way to utilize every bit of space, and our architect can help build it. If you are thinking about going on with the project on your own, stop! Remodeling your basement is a very tricky job. Depending on the floor and the walls, some serious construction may be needed. We want to optimize your home so it's not only comfortable for you, but is also safe. If you attempt to fix it yourself and do it improperly, you could affect the foundation of your house.
Importance of Finished Basement In a Home
A poorly finished basement can be welcoming to flooding due to leaks from the ground, especially in places where it rains a lot. Proper basement finishing should be done right after the construction to ensure its efficiency, or at least wait for everything to be settled. When a basement leaks, it can either be refinished or—for an even more assurance—remodeled.
Hire a professional basement remodeling contractor
Here at Artistic Construction, we work hard to put your needs and budget at the top of our list. We want to make sure we continue to make superb changes in the homes of many, including your basement. When a professional helps work on your basement, they will not only add what you want to the room, but will also ensure that the entire structure has a solid foundation. We want to make sure that you are getting the best work possible for the best price, so we will work on your budget to find exactly what you need for your dream home to become a reality.